How To Tackle: RESTAURANTS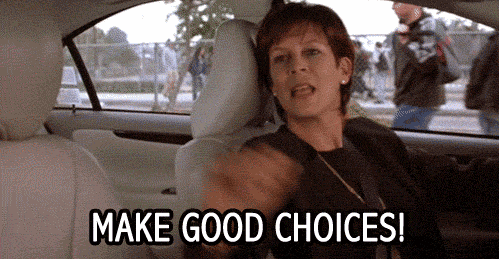 Let's face it, eating out is practically inevitable. Meeting up with old friends, stopping on the way home from work, grabbing a bite to eat with the family; restaurants are convenient and easy. There's zero prep work or clean-up needed. Convenience doesn't mean sacrificing your health though.
How to order at a restaurant without trashing your eating habits:
- Plan ahead and look online. Some restaurants, especially big chains, have the nutrition facts online
- Avoid buffets, please
- Ask yourself this- how have you been eating recently? Have you been committed to your meal planning this week? You CAN treat yourself. Don't feel guilty for going out to eat.
- Eat as you normally would that day and eat a few hours before to prevent overeating
- Order water, unsweetened tea, or diet soda
- Don't fill up on empty calories AKA alcohol
- Limit/avoid the bread, butter, chips, and finger foods that are placed on your table; you can say no thank you
- Ordering appetizers? Order a salad- the fresh veggies are full of nutrients and fiber (which will prevent overeating)
- Words to LOOK for - steamed, baked, broiled, grilled, poached, roasted, seared, braised
- Words to AVOID - loaded, fried, smothered, sautéed, meat with skin, pan-fried, dipped, breaded, Alfredo, buttery, stuffed
- Choose lean protein options like white fish, tofu, tuna, chicken, turkey, leaner cuts of steak (like top or bottom round, top sirloin/loin), salmon, lean beef
- Keep an eye out for brown rice, sweet potatoes, quinoa, or 100% whole wheat pasta instead of white rice/potatoes/bread
- Sides - substitute sides with veggies or if 2 sides are an option, double up on vegetables or replace one with a side salad or a sweet potato
- Ask the server if there are healthier options or how to make a dish healthier (not cooked in butter/oil for example). Ask what's in the food and how it is prepared; you have a right to know what you're putting into your body.
- Don't be afraid to ask for what you want!! My mom always says "it never hurts to ask" and it holds so much truth. When I do eat out, I typically start my order off with "okay I'm about to be a pain so I'm sorry..." because I ask for so many modifications, but 9/10 times they can accommodate to my requests.
- Ask to add an order of meat protein to a dish (like a salad) or get an extra serving of meat for added protein
- Gluten Free does not automatically mean healthy
- Soups and sauces = opt for tomato, vegetable, or broth bases instead of the creamy/cheesy bases
- Order dressings and toppings on the side - dip your fork in it instead of pouring it on top. You'll get flavor in every bite and use significantly less sauce.
- Healthier sauce/dressing options = lemons, limes, hot sauces, salsas, or vinaigrettes
- Either split or skip dessert. Split it with the table or eat dessert at home - something like fruit, yogurt, halo top ice cream, sorbet, a small piece of chocolate, or a healthy dessert recipe like these healthy Reese's Cups 
- Share your entree with another person or bring half home to eat for another meal
- National Heart, Lung, and Blood Institute states that food portions have doubled and even tripled at restaurants over that last 20 years 
So how much are we supposed to eat if the dishes keep getting bigger and bigger? Just eyeball it! My mom always "just eyeballs it" when she cooks. Growing up this concept was mind-boggling to me, but over the years I've learned to eyeball it (thank you mom) and you can too!
How to eyeball your portion sizes at restaurants:
- 3 oz of meat = palm of your hand / deck of playing cards / bar of soap (for a protein filled meal, eyeball 1.5 servings)
- 3 oz fish = size of a checkbook
- 1/2 C potatoes or rice = 1 cupcake wrapper / a baseball cut in half / 1 lacrosse ball
- Baked potato = the size of an old computer mouse
- 1/2 C pasta = palm of your hand / about what would fit into your hand if you grabbed the pasta / the size of a small fist
- 1 whole wheat pancake = 1 DVD (remember those? Or are we all watching Netflix now)
- Medium piece of fruit = 1 tennis ball
- 1 C cooked of veggies = 1 softball
- 1/4 C nuts = 1 golf ball
- 2 TBSP PB or hummus = 1 ping pong ball
- 1.5 oz. of cheese = 3 dice
- 1 TBSP of fats like mayo, salad dressings, sauces = tip of your thumb / size of a poker chip
- 1 tsp of butter = postage stamp / tip of your finger / 1 die
- 1 cookie = 2 poker chips
- 1 C yogurt = 1 baseball
- 1/2 C of frozen yogurt or ice cream = 1 tennis ball / a light bulb
Now there are no excuses. You can make healthy choices AND still enjoy going out to eat!
Please reload